News and Events
Keep up with the latest news and events happening around Wild Koala Day and the conservation of Koalas in the Wild.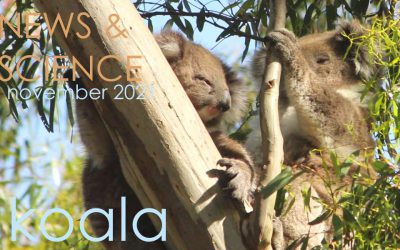 "Do we love koalas enough?" Stuart Blanch asks ABC radio; New koala colony west of Sydney found as a result of COVID lockdowns; Koalas once again the focus of Climate Change protests; Wildlife rescuers trained to check bushfire areas sooner; Tweed Council pushes back against SEPP; Funding for Gippsland Landcare groups to plant trees; Koala deaths on road reduced around Emerald;
Petition to protect 200 hectares of koala forest receives 24,970 signatures;
Cherry Tree SF declared core Koala Habitat; Koala researcher wins Australian Academy of Science grant; Planting trees for koalas in Australian Geographic
KOALA SCIENCE: Mitchell, Soto-Berelov, Jones Regional Variation in Forest Canopy Height and Implications of Koala Habitat Mapping and Forest and Forest Management. Melzer & Black. Koala road kills are linked to landscape attributes on Central Queensland's Peak Downs Highway. Law, Gonsvales, Burgar, Brassil, Kerr, Wilmott, Madden, Smith, Mella, Crowther, Krockenberger, Rus, Pietsch, Truskinger, Eichinski, Roe. Estimating and validating koala density estimates from acoustic arrays using spatial count modelling. FEATURE PAPER: Ellis, Melzer, Clifton, Carrick; (2010) Climate change and the koala: water and energy.