by Bernard Jean
Day 8/10
Eighth day out of 10 of posting the story and photos of a beloved wild koala and others from Noosa National Park (NNP), before International Wild Koala Day on May 3rd, 2020. Today we'll explore what happened in Tea Tree Bay – Noosa National Park, with our 5 newcomers Bumpy/Zahra, Allegro/Doncaster, Teaboy, Boice and Denzel, cohabiting with Teadoro.
We'll cover from 28/08/2019 to 15/12/2019, almost 4 months with some good news but also some very sad ones unfortunately.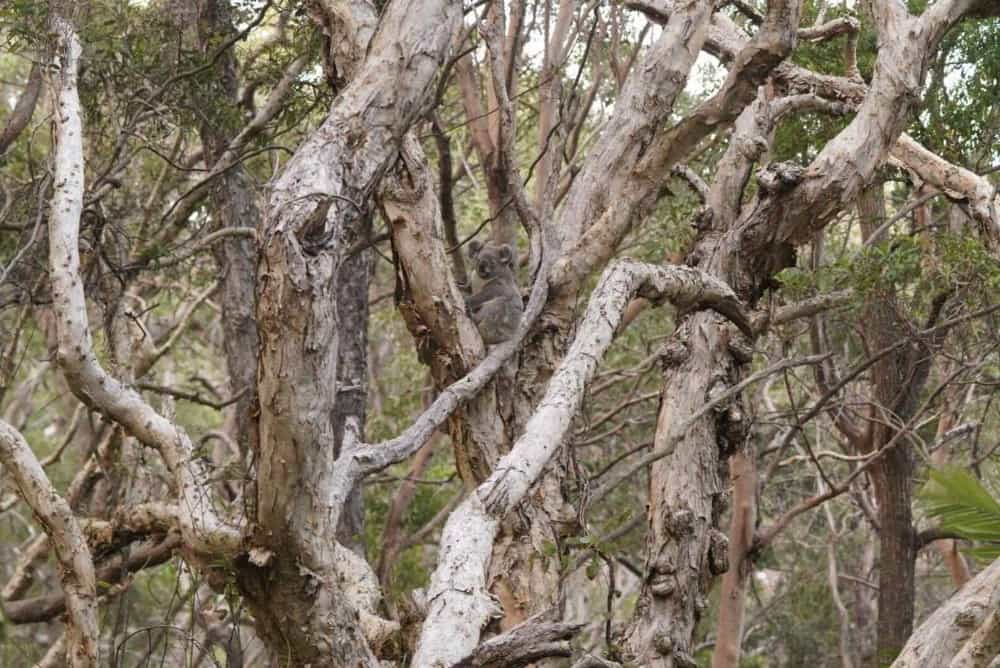 ..
On 28/08, 05/09 and 15/09 Teadoro was seen frequently, happy in his favorite trees on the ocean side and on the hillside.
On 19/09 an onlooker took a photo of him as he was walking down the coastal track, just under the koala sign.
But on the 25/09 Park onlookers started reporting on Facebook that a nice koala was walking down the coastal walk, people taking close up photos of him and trying to pat him and even to lift him up, ignorant of the danger in doing this!
The day after our friend Sally from Queensland Koala Crusaders was doing her early morning walk and saw him on the Coastal Walk, unable to climb a tree. She protected him from the onlookers and called our rescue team straight away. He was quickly picked up and transported to Australia Zoo Wildlife Hospital where he was diagnosed with domestic dog bites on his rear and his caecum with heavy infection. He was sedated and treated for the infection but sadly it spread to his liver and after eight days of touch and go his immune system shut down and despite the best possible care from AZWH he lost his battle.
Such a hard time for us, who were used to see this gentle and beautiful koala, who will be remembered for lighting up Tea Tree Bay by his presence.
And such anger against the owner of the dog who ignored that dogs were strictly forbidden in Noosa National Park. I had a meeting with the Park Rangers to address this problem of some local or tourist dog owners sneaking in after hours with their dogs in the Park. They are now doing regular patrols to try and stop this. There are heavy fines for this.
I followed this little guy in Noosa National Park since June 23, 2016. He was the sweetest and most photogenic of all, most of the time around Tea Tree Bay.
He got sick with chlamydia in March 2017 when he was around 2 year old.
He was rescued and treated at RSPCA Wacol Wildlife Hospital and released back in May 2017 in his home. He disappeared for about a year and we found him back a few times up the hill at Laguna Lookout. Then he disappeared again and we found him back at the entrance of the park on the ocean side in June 2019. He then moved to Tea Tree Bay from where he originated and established his territory back there, even defending it against intruders.
But his habit of changing tree at any time of the day even in front of onlookers was sadly fatal to him.
Teadoro, you have made so many people from around the world happy when discovering you in one of your preferred trees. We promise you that our faith and determination in protecting and preserving your brothers and sisters is reinforced many fold and will never die! R.I.P. gorgeous.
Now to some good news. Teaboy who was rescued at TTB on 01/08/2019 and treated successfully for conjunctivitis at Australia Zoo Wildlife Hospital was released on 11/10/2019 on the service road at the back of TTB. He was so choosy about which tree he wanted that he tried 3 and disappeared in the bush. A wonderful experience again. He was then spotted 2 days after, settling in while looking from his hillside location to the TTB surfers.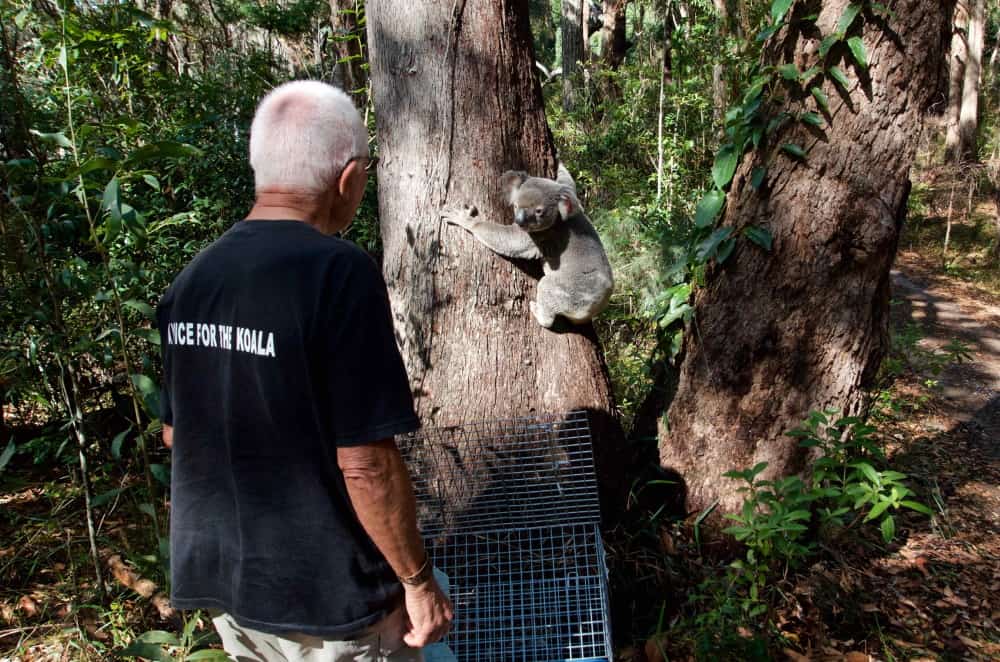 ..
Boice and Zahra were respectively spotted on 15 and 18/10 by Fiona from ficlarkphotography, and then on 26/10 it was a lucky 3 koala day with Teaboy Zahra and Allegro sightings in TTB. Then several sightings of Allegro in TTB, on 01, 05 and 06/11, followed by Denzel on 10/11 (photo by Fi Clark), Teaboy on 24/11 and finally Allegro, alias Doncaster? looking his age on 06/12 and 15/12.
Teaboy was actually sighted this morning 01/05/2020 walking on Tanglewood track in NNP probably to change tree and looking good. With Fiona Clark we went to look for him this afternoon but couldn't find him despite finding the exact location where lucky Vanessa Lyons took the photo, which is included last. On our way back it was almost dark but we found Teadoro having dinner, high in his preferred tree next to post #4.
This is the reason why I am late in publishing this day 8 update! I know you'll forgive me…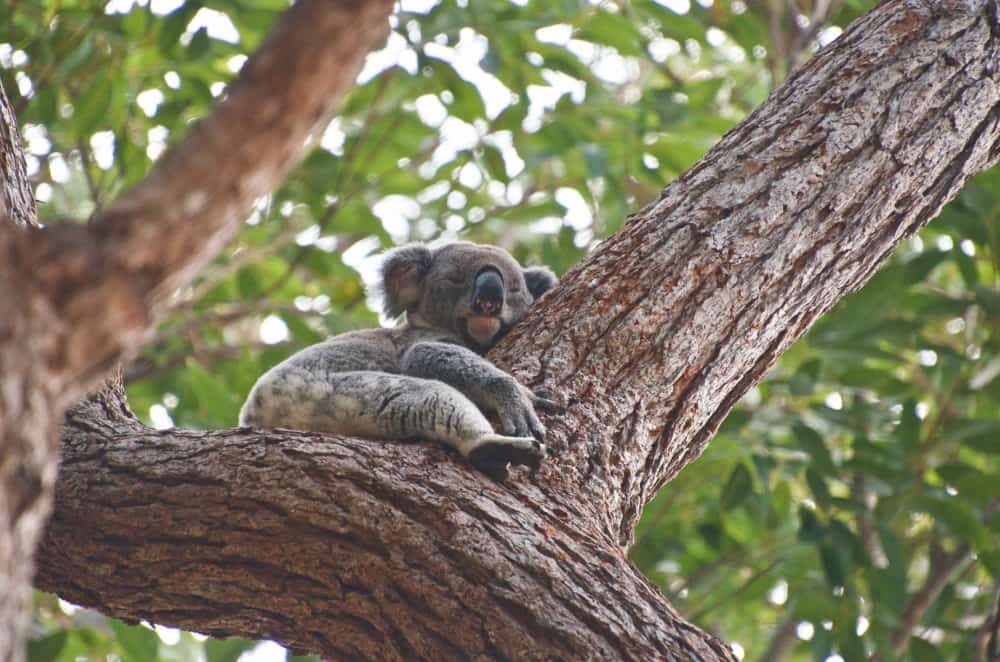 ..
That was a lot of sightings in 4 months and each one of them made us so happy!
Hoping you have enjoyed your first day of May and see you again tomorrow for photos of day 9 where I'll cover some more sightings of Allegro/Doncaster.
Bernard Jean ❤️?
Queensland Koala Crusaders
Noosa Koala Sightings